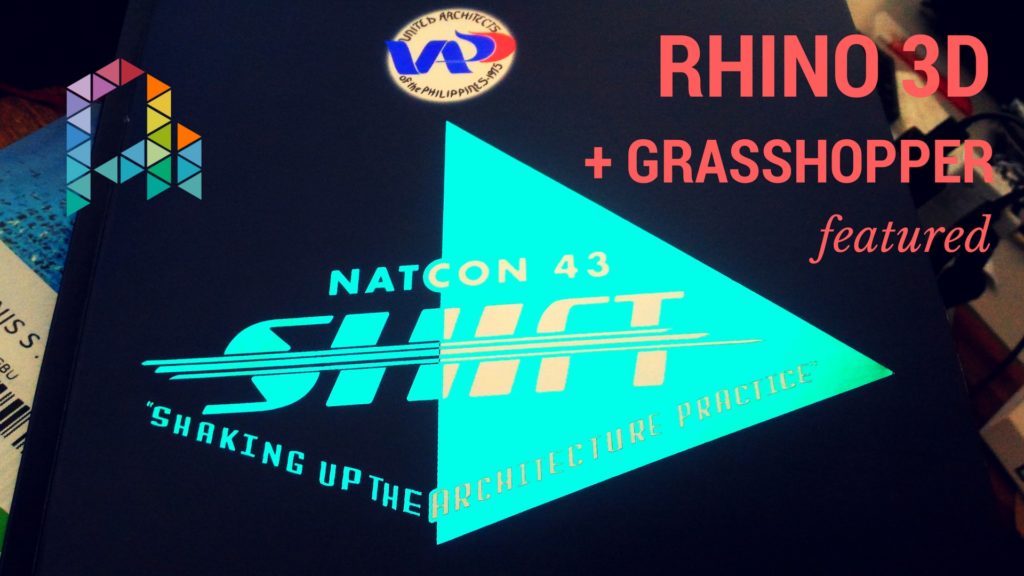 Rhino 3D + Grasshopper featured by UAP 43 National Convention Resource Speakers
The UAP 43 National Convention of Architects was held on April 27-29, 2017 at the SMX Convention Center in Pasay, Manila. This Three day convention had set a milestone from it's previous architects convention due to its sheer number of registered licensed architects which reached 4,000 attendees, twice as many as the previous conventions. Dubbed as "Shift: Shaking up the Architecture Practice" what stood out among the CPD (Continuing Professional Development) Seminars where talks given by three speakers.
Ar. Gerard Thomas F. Joson who won the 2015 Metrobank MADE Architecture awards, talked about "Parametricism + Architecture" wherein the abstract of his discussion states, "Gone are the days when computers were merely transcoders of our physical reality but instead our realm is starting to transmogrify with multi-agent computational systems, mathematical algorithms and robotic fabrications."
Ar. Tan Szue Han, SIA who is the Deputy Head (Sustainable Urban Solutions & Principles) & principal architect for Surbana Jurong Private Ltd. Discussed how multidisciplinary works drives solutions for sustainable building technologies and the future smart city. Taken from the abstract of his talk: "The sharing focuses on key projects which look at the design of buildings and environments through a multi-disciplinary lens, and explores how the Architect's role had become even more important. It also includes a segment on "Things never thought in Architecture School", where the speaker will share some of the tools of the professional trade."
Ar.Edouard Cabay, IAAC AA Barcelona is the Founder and Studio Director of Appareil in Barcelona. His topic was entitled "Digital Revolution and the Transformation of Architecture". His practice challenges the dogma of traditional architectural design which focus' on rule of thumb processes. Part of his abstract "Today's world, transformed by the digital revolution sees new tools of design and manufacturing to be challenging the heritage of our discipline by providing new opportunities or means to develop architecture".
These three architects all presented their projects and processes in Rhinoceros 3D and Grasshopper. Architechnologies is the only company with authorized Rhino trainers here in the Philippines. Know more about the software through our training, posted schedules here.